INTERNET & WEB PAGE DESIGN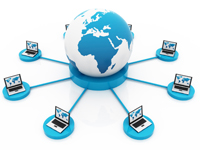 Web Page Design & Site Development
Internet Graphic Design and Optimazation
Google Map Development
GIF and FLASH Animation
Digital Imaging & Computer Presentations
Web Page Design:

Design your Home Page and additional Web Pages to make surfers take notice of your site. Includes: DHTML, CGI, Java Script, Flash and more. Specialized in ColdFusion and database retrieval.

Internet Site Development:

Set up your site and maintain your pages to keep them up to date and compatible with various browsers and current standards & technologies.

Site Traffic:

Why pay hundreds or even thousands of dollars to increase traffic to your site. We include it with our design of your web site for a fraction of the cost.

Google Maps:

Develop Google Map applications to display geo-coded data.

Web Graphics:

Create or convert digital graphics/photos for the web.

GIF, JPEG, PDF Web Optimization:

Provide the format for best results on the World Wide Web.

Animation:

Create GIF or FLASH animation sequences for the internet.

Digital Imaging:

Provide Digital Images for use on the Internet, your computer, or in a publication.

Graphics & Animation Design:

Design Computerized Graphics or Animation for use on the World Wide Web, your computer, or in printed material.

Computer Presentations:

Develop Computer Presentations for advertising, training, or information purposes.
Copyright © 2010, Zoidal Technologies Site Hosted by Random Symmetry

Last Updated: