SITE ENGINEERING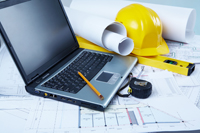 Engineering Consultant Services
Building Site & Lot Drainage Design
Utility Engineering
Plans, Specifications and Code Requirements
Professional House Inspections
Consultant Services:

Work in conjuction with others to provide Civil Engineering services.

Site Improvements:

Design improvements for home or office site.

Plans and Specifications:

Develop the Plans and Specifications for any site or building improvement.

Building Configurations:

Design new interior configurations for the home or small office.

Code Requirements:

Determine the Building or Zoning Code requirements for any changes to site or structure.

House Inspections:

Perform visual evaluation of building, check utilities, and examine operation of structual amenities.

Drainage Design:

Determine the drainage needs for small site to large parking facility.