GRAPHIC DESIGN AND IMAGING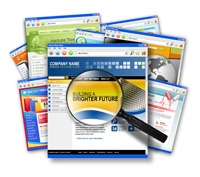 Internet Graphic Design and Optimazation
GIF and FLASH Animation
Digital Imaging & Computer Presentations
Brochures, Newsletters & Business Cards
Emblems, Signs, & Logos
Web Graphics:

Create or convert digital graphics/photos for the web.

GIF, JPEG, PDF Web Optimization:

Provide the format for best results on the World Wide Web.

Animation:

Create GIF or FLASH animation sequences for the internet.

Digital Imaging:

Provide Digital Images for use on the Internet, your computer, or in a publication.

Graphics & Animation Design:

Design Computerized Graphics or Animation for use on the World Wide Web, your computer, or in printed material.

Computer Presentations:

Develop Computer Presentations for advertising, training, or information purposes.

Brochures and Business Cards:

Design Brochures and Business Cards for easy updating and printing.

Newsletters & Pamphlets:

Provide graphic headers and layouts for your use in Newsletters or Pamphlets.

Emblems & Logos:

Graphic Design for use as emblems and logos. For use on clothing, signs, business documents, etc.